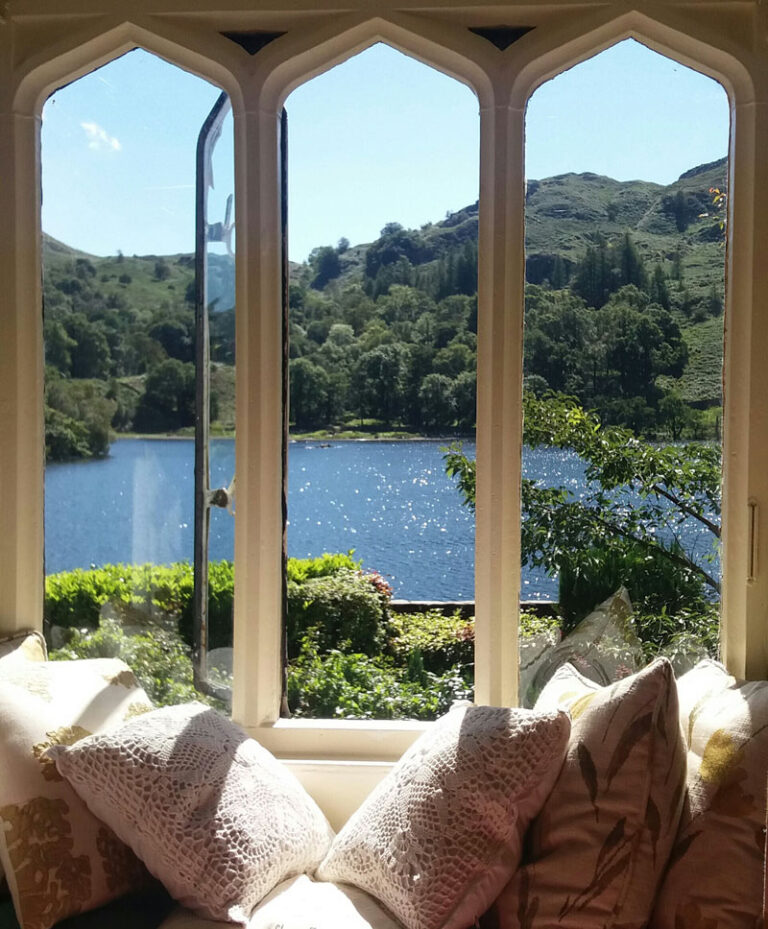 In 2009 Nab Cottage was listed at 23 in 'Britain's 50 best kept secrets' by the Daily Telegraph. It is quoted as being, 'One of the most mysterious and beautiful of all the Lake District's traditional cottages, once lived in by the opium-eater Thomas De Quincey.' It is a very special place to stay – standing alone beside a small lake and surrounded by mountains.
The bedrooms are all cosy with beautiful views, and most have their own shower and toilet. There are 2 single rooms, and eight rooms for 2 people. Downstairs there is a sitting room with log fire, a TV room, a piano room, dining rooms, and a large farmhouse kitchen.
The food at Nab Cottage is delicious: we make our own bread and provide a balanced menu including vegetarian food, meat and fish. We use organic and fair-trade produce when possible. We eat outside when the sun shines and all meals and refreshments are included in the price. We ask everybody to help once a week on a rota system to help serve and clear the meals.
Next to the cottage there is a beautiful converted Lakeland barn on two levels. There are 4 rooms in the barn. The main studio space is 10m x 7m with a large French window opening onto a patio and looking up to the fell. Above this is a small room ideal for one to one or massage. Downstairs there are 2 rooms, the larger one a comfortable group meeting area with sofas and TV. Next to this is the temple, used for meditation and small group practice.
There are gardens around the cottage including an orchard, an outdoor sauna and hot tub, a summerhouse with hammocks, and a vegetable/flower garden. Hidden away in the gardens are magical secluded seating areas each with a different enchanting view where you can sit alone and reflect or share a beer with friends watching the sun set behind the mountains.
We have a Canadian canoe and paddleboards you can use on the lake.
There are regular buses to the nearby villages, Ambleside and Grasmere.